Local Gypsy Jazz and Swing trio Fret and Fiddle will be playing at L'Esprit Manouche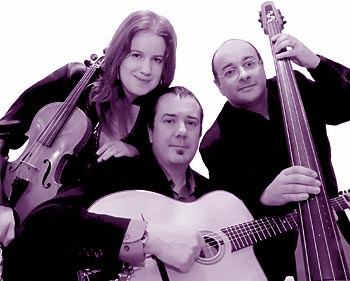 L'ESPRIT MANOUCHE
The Festival season is back again. In this issue we feature a wide range for you to choose from, starting with L'Esprit Manouche.
L'Esprit Manouche is a top Gypsy Swing festival with over 20 hours of live music from the best players around, all on 9th & 10th July at Moseley Park, Birmingham. This years line up includes the Rosenberg Trio (first ever UK performance), Dotschy Reinhardt, Lollo Meier, Moreno, Dominique Pierard & Benjamin Clement, Les Doigts de l'Homme, Fred T. Baker as well as local talent such as Trio Gitano and Fret & Fiddle.
A line-up of this calibre attracts audiences from all over the world and if the weather holds it should be the perfect Summer Festival. Music starts at 12.30 and goes on to about 11pm both days. Master Classes are available from Jonny Hepbir (Guitar) and Tim Kliphuis (Violin) over the weekend (price £25)
For more info go to: www.lespritmanouche.com or phone 0121-249 2303.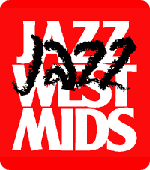 DON LUSHER FOR SALVATION ARMY BENEFIT
Fred Devereux bass, trombonist with Brian Newton band sent news of a charity concert in aid of the Salvation Army, featuring star Trombonist Don Lusher. Fred writes:
Don Lusher has agreed to give a concert in aid of the work of the Salvation Army in Birmingham, which consists of services for families, older people, young people, addicts, homeless etc. Their current building is inadequate and plans are in hand to extend it through a fundraising programme.
Don is known worldwide as one of the best trombonists ever. He will be accompanied by the Brian Hadley trio, three local guys with exceptional talent.
The concert is on 9th of July at the Salvation Army St Chads Queensway at 7.30 pm. Donation tickets are available at £7 and concession £5. Telephone numbers for tickets are 0121 236 5776 (office) or 0121 357 1018 my home or 07905 704 907 my mobile.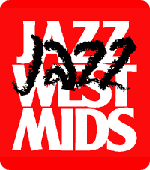 DRUMMING ACE ON A ROLL
Britain's Ace Drummin' Man, John Petters, has a busy time ahead, with a season of Louis Armstrong Riverboat Shuffles, and a series of residential jazz festivals to organise.
Having recorded with American stars, Wild Bill Davison, Art Hodes, Yank Lawson, Kenny Davern and Al Casey, as well as notable Brits, Ken Colyer, George Chisholm and Humphrey Lyttelton, Petters now spends most of his time promoting jazz events.
On Sunday 17th July, his Jazz'n'Swing Band plays a riverboat cruise on the Conway Castle at Upton-upon-Severn with former Acker Bilk cornetist, Ken Sims.
In September (16th - 19th) it's the Louis Armstrong Celebration Festival at South Downs Holiday Centre with Sammy Rimington and the father of British Jazz, George Webb.
November finds the drummer fronting the Fourth William Shakespeare Jazz Festival in Stratford.
Further details or brochures on 0800 496 0673, www.traditional-jazz.com e-mail: tjpost@traditional-jazz.com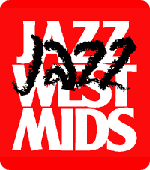 FUNDRAISER FOR FALLEN GIANT
Musicians from all over the Midlands will be joining together to raise funds to help Jazz and Blues giant, Steve Ajao.
The top Alto Sax and Blues Guitarist who suffered serious head and leg injuries when he was hit by a car while crossing the road is one of the major players on the local Jazz and Blues scene.
Fellow musicians are coming together to play concerts in his benefit, and an all day gig is being held in the beer garden at one of Steve's favourite pubs, the Prince of Wales in Moseley, on Sunday 3 July. Doors open at 12.30 and there will be a full day of fantastic Jazz, Blues, Reggae, Rock and Acoustic music with many top names from across the Midlands already lined up.Admission is £5.00 with everybody paying (even the caterers and musicians).
More events have been planned or are in the pipeline including a Birmingham Jazz Festival gig, "Blues in the Night - A Fundraiser For Steve Ajao" in the Moulin Rouge, Centenary Square on July 9th.
Info at www.steveajao.com or contact Ade Wakelin: 07831 099 951 ade@smokinguitars.co.uk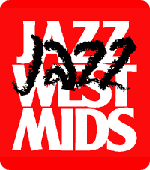 JAZZ CONNECTION'S 5th BIRTHDAY
The Jazz Connection at Ryton on Dunsmore near Coventry are putting on a "unique occasion" at their regular venue to celebrate their 5th Anniversary. Originally based at the Eathorpe Park Hotel they had to find a new venue and 5 years ago they moved to the Leisure Centre at the Sports Connection, where they have continued to enjoy many evenings of great Jazz.
Committee member Derek Goode says there is always a convivial atmosphere and bands love to play there. The Jazz on offer is New Orleans, Dixieland and Mainstream. Other Committee members who help to run the Club are Terry, Geoff and Mike.
For the Anniversary event the All Stars Band was put together by Derek and musician, Jonny Boston.
Price (£10) includes an excellent buffet, great young musicians and a celebration atmosphere. If you would like to be involved in this unique occasion, and have a very enjoyable evening phone Derek on 024 7633 5273 or Terry on 01926 832 306. Don't delay as it"s tickets only and numbers are limited. Past supporters and new members welcome.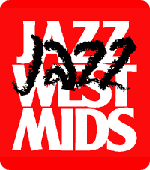 JAZZ AT THE STRATH
Will Owen, Head Chef from the Thistle Hotel, Edgbaston (formerly "The Strath") is an inspiration to anyone thinking of starting regular Jazz sessions. Will began a Jazz programme on alternate Sundays and has now become a really solid Jazz fan. On Tuesday 5th July Will has booked the Heart of England from 8pm and he is providing a free sandwich buffet
---
TRUMPET - THE GOOD NEWS!
Further to last month's item about difficulties at the Trumpet, Bilston we are delighted to report that things are improving. Annie tells us that they have received great support from Jazz fans and musicians alike, for which they are very grateful. Keep up the support!
---
NEW HOME FOR SUTTON JAZZ CLUB
The dedicated bunch of Trad enthusiasts who run the Sutton Coldfield Jazz Club have moved to a new venue, the Sutton Town Football Club in Coles Lane, Sutton Coldfield. They are no longer to be found at the Royal Hotel, but events are still to be held on Wednesday evenings as before. We wish them every success and lots of great Trad Jazz at their new home. For info phone 0121 308 4660
---
JAZZ ON THE WATER
Sam Waller reports that his first Jazz Cruise was a great success. Musicians Chris Bowden on Sax and Edgar Macías on keyboard entertained an enthusiastic audience. Sam is much looking forward to his next cruise with Fret & Fiddle on 24th July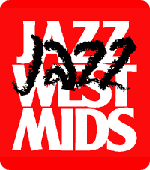 FESTIVALS
MOULIN ROUGE AND "JAZZ OSCARS" ALL AT BIRMINGHAM'S JAZZ FEST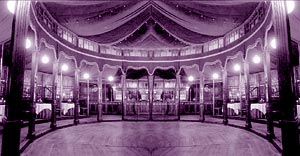 To celebrate the first 21 years, The 2005 Starbucks Birmingham International Jazz Festival takes great pride in presenting, for the first time ever in Birmingham, the world-famous Spiegeltent, The Moulin Rouge.
The art deco pavillion was built in Belgium in 1910, and will be sited in Centenary Square from July 1st to 10th. It will be the centre point of the Festival with events taking place daytime and evening for the 10 days of the festival.
The Jazz festival is claiming a major coup with the return to Birmingham of the British Jazz Awards "the Jazz Oscars". The John Burnett Memorial Concert (in memory of Birmingham's great trumpet star) featuring The Birmingham Jazz All Stars will raise funds for The British Heart Foundation. Headline acts include Kyle Eastwood, Birmingham's Soweto Kinch and Andy Hamilton, America's Joey De Francesco Trio, Hanna Richardson Trio, legendary tenor saxist Red Holloway and singers Val Wiseman and Gwyneth Herbert.
All this and much more including regulars such as Alan Barnes and King Pleasure will be happening in and around Birmingham.
For full details ring 0121 454 7020, email festival@bigbearmusic.com or visit www.birminghamjazzfestival.com
TORD GUSTAVSEN FOR LICHFIELD
On 16th July the Tord Gustavsen Trio play their first ever concert in the West Midlands at the Lichfield Festival. The Norwegian piano trio is proving to be the quiet sensation of 21st century jazz. Their first CD on ECM, 2000's Changing Places, sold an impressive 65,000 copies in its first year, and its successor, The Ground, also on ECM, has reached number 8 in the Billboard Jazz Chart.
In explaining his popularity, Tord Gustavsen said: "We try to play music that is as honest and free as possible." The trio play the Lichfield Garrick Theatre as part of the Lichfield Festival on Saturday 16 July at 7.30pm.
Also appearing at the 2005 Lichfield Festival are Clare Teal and her band (Lichfield Garrick Theatre, Friday 8 July) and the Midland Youth Jazz Orchestra with special guest Mark Nightingale (Lichfield Cathedral, Friday 15 July).
For all three concerts, call the box office on 01543 412 121 or book online at www.lichfieldfestival.org
BRECON JAZZ FESTIVAL
This August, the beautiful market town of Brecon in mid-Wales will once again host the world-famous jazz festival with another packed programme of unmissable concerts by some of the finest artists from around the globe.
Brecon International Festival Of Jazz 2005 runs from Friday 12th to Sunday 14th August 2005 with its trademark mix of big name performances, stroller concerts and street music events.
Attracting fans of all kinds of jazz, from traditional to contemporary, as well as connoisseurs of great music young or old, Brecon Jazz Festival is one of Europe's top Jazz Festivals.
MARLBOROUGH JAZZ 2005
July 8th-10TH - An eclectic weekend in the beautiful market town of Marlborough, Wiltshire. For details phone 01672 515 095 or visit www.marlboroughjazz.co.uk
PICKERING JAZZ FESTIVAL
"On the edge of Heartbeat country"
25th - 30th July - Trad with some Swing. Now in it's 18th year it takes place at the Memorial Hall in Pickering, (nr Whitby and Scarborough) Contact Norval Jackson on 01347 878 642 for further information.
FREE JAZZ AT DROITWICH
As part of the Droitwich Spa Music Festival there will be a number of excellent free Jazz events. The festival runs from Monday 4th to Sunday 10th July and includes the Louisiana Dixie Trio (4th July) and Tom Hill's mainstream outfit ZZ Bop (5th July). THe Louisiana Strollers will be at the Salters Centre on 7th and 14th July and the Worcester Youth Jazz Orchestra will be in the Lido Park on Sunday 10th July. Full details from Jill Campbell: 07977 493 445 or jill.campbell@wychavon.gov.uk
SWANAGE JAZZ FESTIVAL
"Great Jazz on the beautiful Dorset Coast'
Swanage is unusual among British Festivals in putting on Jazz in most of the styles played in Britain today - New Orleans, Dixieland, Swing, Mainstream, Bebop, Postbop and contemporary.The Festival is from Friday 15th to Sunday 17th July. For tickets and further information call 01929 422 215 (www.swanagejazz.org.uk)
LUDLOW JAZZ FESTIVAL
At the Bull Hotel, 14 Bull Ring, Ludlow SY8 1AD. From Friday 1st to Sunday 3rd July includes big names such as Scott Hamilton, Alan Barnes, Digby Fairweather and the Bryan Jones Big Band For details phone Sally Maile on 01584 873 611 or write to the address above