BUDDY GRECO ON TOUR IN THE MIDLANDS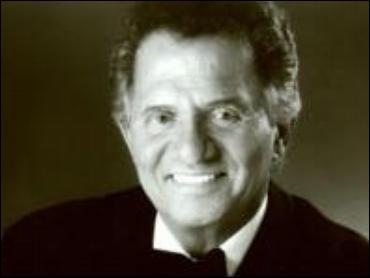 Here's your chance of a lifetime to see Buddy Greco – a living legend – in the flesh. He will be appearing at the Circus Casino, Star City, Birmingham on Friday 8th August at 7.30pm where you can enjoy a three course meal and full show including the fantastic tribute act "The Rat Pack is Back".
For booking information call 0121-327 8008 or 01268 440082
e-mail: streetwize@blueyonder.co.uk
Website: www.buddygrecolive.co.uk
If you live nearer to Leamington Spa you can also see Buddy at the Royal Spa Centre on Sunday 27th July. Box Office 01926 334418 or visit www.royal-spa-centre.co.uk
---
CHRIS GUMBLEY'S 'JAZZBEAT'
Chris Gumbley is a saxophone player who currently hosts one of the most popular jazz shows on BBC radio. He has been hosting the weekly show for nearly two years, since taking over from Mel Hill.
As director of the Stafford International Jazz Festival and organiser of Gumbles Jazz Club in Stafford, Chris definitely knows his jazz, and his informed comments on the show have made the programme popular across the world. Messages are received from as far afield as the USA and Japan.
Playing classic jazz from across the twentieth century as well as contemporary jazz, Chris will also find obscure tracks requested by listeners. Chris's 'Jazzbeat' is available on the BBC i-Player listen-again service. For all details, check:
www.bbc.co.uk/stoke/entertainment/music/jazz/
---
JAZZ IN VIENNA
If you'd like a break in Vienna, one of the most beautiful and romantic cities in the world, you may well be interested in the self-catering accommodation advertised on this page There's plenty of jazz to be enjoyed there and we're sure you would have a wonderful holiday.
INTERESTED? WANT TO LEARN MORE? CONTACT: NICK or VERONICA
nickbalmforth@gmail.com
v.kothbauer@gmail.com
OR PHONE: STAFFORD (01785) 226950
---
JAZZ AT THE SCARLET PIMPERNEL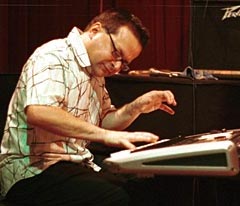 The Scarlet Pimpernel, Tennal Road, Harborne has free mainstream jazz on a Sunday afternoon from 3pm, often featuring pianist Edgar Macias (left), and a variety of other exciting musicians. Landlady Gill Coyne is a great supporter of jazz and all types of music, and also brings delicious, beautifully presented food out of the kitchen. This venue is heartily recommended for a Sunday afternoon. For all enquiries phone 0121-426 0930.

---
ISLE OF MAN JAZZ FESTIVAL, 19th-21st SEPTEMBER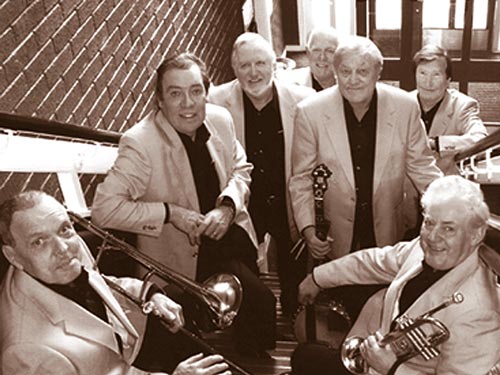 A holiday in the beautiful, scenic Isle of Man would certainly set you up for the Autumn, and you can enjoy excellent bands including The Chicago Teddy Bears, The 2nd Line Jazz Band (Sweden), Jim McIntosh and the Jazzoholics, and musicians such as Bruce Adams, Julian Marc Stringle, Roy Williams, Art Themen, and many more. The Festival is held at the Hilton Hotel, Douglas. For Steam Packet Holidays phone 08457 585833. For Travel Services and for the Hilton Hotel Accommodation and Travel Package phone 01624 661177
Manx Jazz Club helplines: You can call Alan on 01624 861095 or Brian on 01624 676735, website www.freewebs.com/manxjazzclub
---
WIGAN FESTIVAL 11th-19th JULY
PLEDGES TO GET THE TOWN IN TUNE
Organisers of the 23rd Wigan International Jazz Festival have lots of good ideas about getting people involved in jazz. In the run up to and during the Festival a team of teachers will be on the streets introducing people to jazz music and encouraging them to have a go at playing an instrument.
'There will be trumpets, saxophones and percussion instruments available to try out', explains David Little. Artists appearing at the Festival include Elkie Brooks, Matthew Ford, The Guy Barker Jazz Orchestra, Synthesis Big Band, James Morrison, bassist Avishai Cohen, Dennis Rollins, Wigan Youth Jazz Orchestra, Liane Carroll and Ian Shaw.
All tickets are available from Wigan Tourist Information Centre, 01942 825677, or visit www.wiganjazz.net.

---
MARLBOROUGH INTERNATIONAL JAZZ FESTIVAL - July 11th-13th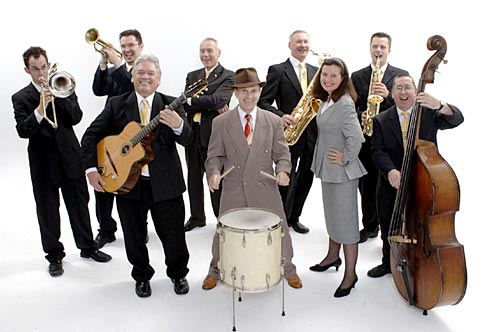 The Brewin Dolphin Marlborough International Jazz Festival 2008 is expected to be the biggest yet, with a true carnival atmosphere throughout the town. Organiser Nick Fogg says 'We have never had so many sensational acts on the bill.'
Highlights for 2008 include the BBC Jazz Star of the Year Clare Teal, Australian virtuoso trumpeter Bob Barnard, Synthesis, one of the three best college big bands in the USA, Australian sensations Red Hot Rhythmakers, The Red Stripe Band, Big Man Clayton, Chris Jagger, Sticky Wickett, Pete Allen, African, Latino and Acid Jazz Bandstands and nearly 100 more events.
Artists have been booked from 23 countries, including Australia, Brazil, Canada, Holland, Hungary, Ireland, Senegal, UK, USA, Ghana, Dominica, Germany, Cuba, Spain, Zambia and Zimbabwe. On Sunday there will be a recreation of Benny Goodman's spectacular 1938 concert at Carnegie Hall, in the 1000 seater Awdry, Bailey and Douglas marquee.
For any further information visit www.marlboroughjazz.co.uk or phone the box office on 01672 515095
---
The Temperance Seven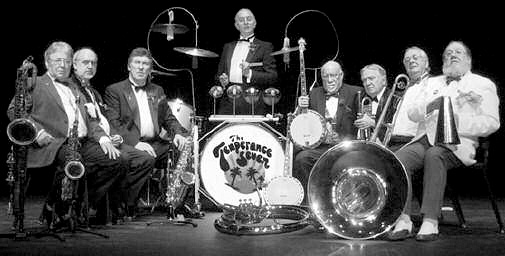 The band that's still delighting audiences with their own special brand of trad jazz will be appearing at the Ludlow Assembly Rooms on Sat 19 July, 7.30pm.
Tickets £15 (£14 concs) - Box Office 01584 878141
www.ludlowassemblyrooms.co.uk
---
40 Years at the Trumpet
for Reg Keirle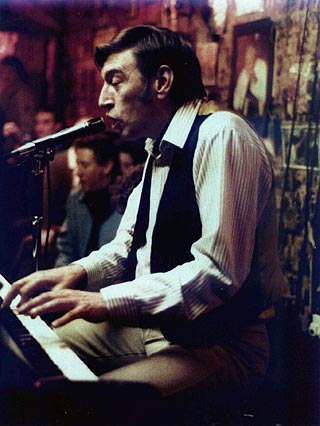 In celebration of the fact that Reg has been playing at the Trumpet for 40 years there will be a special Tribute to Reg on Sunday 13th July, 1.30 - 11.00 pm.
The whole afternoon will be Reg's kind of music. All Reg's friends are invited to bring along their instruments and make it a memorable day. For sustenance there will be a BBQ and hot pizzas, and for lubrication Holden's beer.
---
Becky Brine will be perfoming somewhere every day throughout the
Birmingham Jazz Festival

, even on the train up from London!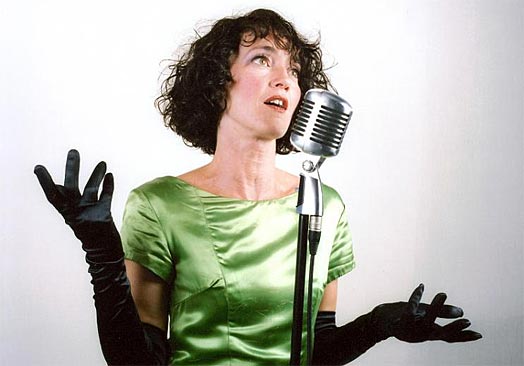 BIRMINGHAM INTERNATIONAL JAZZ FESTIVAL
FRIDAY 4TH TO SUNDAY 13TH JULY
This summer, jazz performers and fans fromacross the world will be in Birmingham to attend one of the best events of its kind, a combination of jazz, blues, great food, art, photography and cinema.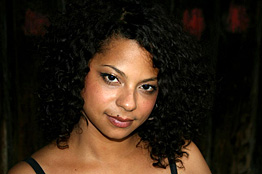 With ten days of unmissable summer entertainment the 24th Birmingham International Jazz Festival has a special ingredient – 90% of the shows are free to the public.
This unique event, Europe's Biggest Free Jazz Party, takes place through 73 venues with 200 performances in hotels, pubs, clubs, parks, museums, city squares, shopping centres, and even on a canal boat and a train (Becky Brine does them both)!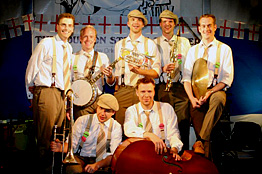 Mellow Harmony (above right), The Bourbon Street Stompers (left) and Micael McQuaid's Red Hot Rhythm Makers (below) are just three of tha acts taking part.To make sure you don't miss out, pick up the festival brochure or visit
www.birminghamjazzfestival.com

---
QUIVER IN SHREWSBURY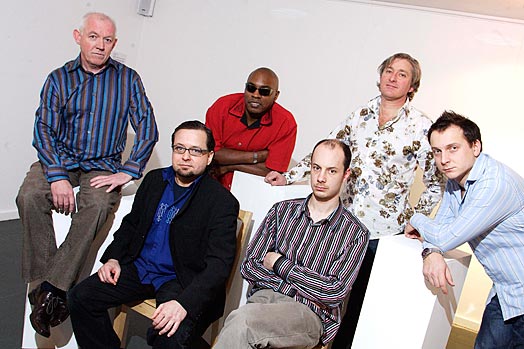 Residents and visitors alike know that Shrewsbury, the town is known for many things – St Chads, The Castle, even the floods, but few people are aware of the thriving local jazz scene. The best example to showcase the wealth of talented musicians who live in or around this historic town is a 6-piece Latin Jazz band known as Quiver.
Quiver is led by local Musician and Composer, Casey Greene. Originally from Australia but now delighted to call Shrewsbury his home, Casey has been performing with his band throughout the UK including London's Watermill Jazz and Birmingham Synphony Hall.
Shrewsbury Jazz Network is delighted to present "Quiver in Summer" at the Hive, 5 Belmont Shrewsbury on Saturday 12 July 8.00pm £8.00. Bookings 01743 234970 or 01743 281281
www.shrewsburyjazznetwork.co.uk
---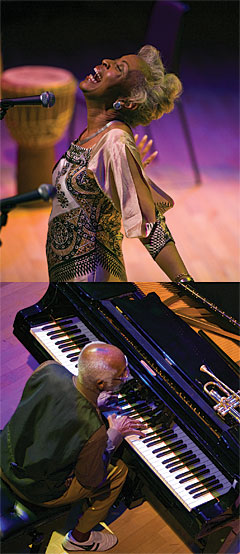 Sonny Bradshaw and Myrna Hague will join Andy Hamilton on Thursday 10th July as Bearwood Corks Club's contribution to the Birmingham Jazz Festival (Photo Russ Escritt)
---
CORRECTION @ DROITWICH
---
It was advertised in the magazine that Tom Hill's band Riding Hard appearing at the Pillar of Salt on Thursday 17th July. This has been switched to The Old Cock Inn, Friar Street, Droitwich Spa, on the same date.
---

Ralph Allin will be at Bearwood Corks Club Thursday 17th July.
Also Jazz Connection in Ruyton-on-Dunsmore, Nr Coventry Wednesday 3rd September
MIKE TURNER PLAYS JAZZ ON THE WATER THIS SATURDAY

Trad Jazz and Swing Clarinet maestro, Mike Turner brings his Quartet to Jazz on The Water this Saturday.

Line-up includes Brian Casson (trb), Phil Probert (gt), Derek Brown (bass) and a vocalist.


Saturday 30th August, 2.30-5.30pm - £7.00

Contact Sam on:
0121 236 7057 or 07931 648 239
---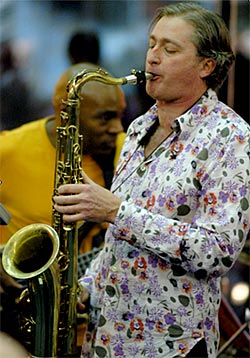 Late additions to listings include Casey Greene's Quiver and more:

Sunday 3 August 8.00pm. QUIVER, 6 piece Latin Jazz band. Edgmond Lion Hotel, Edgmond TF10 8HH 07904 553125

Friday 8 August 8.00pm - Laura Higgs Trio. KHI Coffee, Ironbridge TF8 7AD 01952 433394

Sat 23 Aug 8.00pm - Camelion Trio .KHI Coffee, Ironbridge TF8 7AD 01952 433394
---
BIRMINGHAM BOTANICAL GARDENS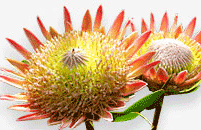 We've just returned from a media day at the Gardens, where we were treated to a dramatic and very moving account of the life of Jane Loudon, wife of John Loudon, who founded the Gardens.
We also had a lovely lunch and a tour of the Gardens with the very knowledgeable Head Gardener. We would certainly recommend a Summer day out at the Botanical Gardens, and there's music – often jazz – from the bandstand on Sunday afternoons. Telephone 0121-454 1860 for any information.
Linda and Barry