HAPPY CHRISTMAS TO ALL OUR READERS
The Jazz West Mids team, Linda, Dick and Barry wish our readers, subscribers, advertisers and all jazz fans a very Happy Christmas, with many thanks for your support throughout the year.
---
BIRMINGHAM JAZZ AWARDS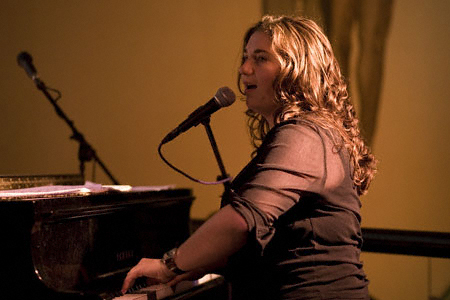 Sara Colman, the People's Choice, © Russ Escritt
As part of Birmingham Jazz's 30th Anniversary Searson Soweto Kinch and Jaqui Dankworth presented the Birmingham Jazz Awards at the Jam House on the first of November. It featured awards for our local, national and international stars, plus performances from Sara Colman, Sugar Beats and the Clark Tracey Quartet.
The winners were
Best International Artist: Dave Holland
Best UK Band: Clark Tracey Quintet
Best Club Jazz Band: Sugar Beats
Rush Hour Blues Audience Poll: Sara Colman
Best Band in Education Project: The Void
Best Supporting DJ: Sammy Goulbourne
We have a couple of photos by Russ Escritt of award winners, the void (below) and Sara Colman (above). There are more photos on Russ's own site www.russpix.co.uk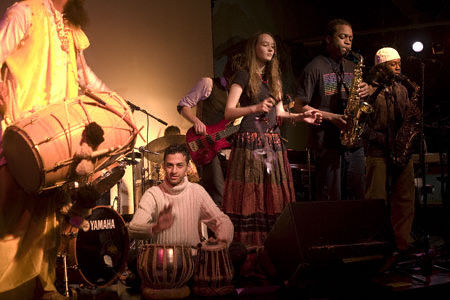 The Void, © Russ Escritt
---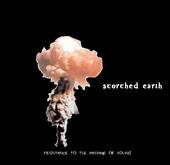 Calling themselves Scorched Earth, Chri Bowden and Mike Gates have a new album out. Jon Fielding wrote this review:
Scorched Earth
"Resistance to the passage of sound"
(Rehab Records cd REH001)
www.scorchedearth.biz
They say that the best albums are those that gradually work their way into your heart. This is definitely the case here. This is a beautifully produced album that after
two or three listens will leave you wishing there was more. A very different album to the usual fare, with Mike Gates' John Martynesque vocals and guitars sitting comfortably with Chris Bowden's graceful, intelligent, Wayne Shorter style sax solos. From the opening track "Out of the darkness", you're not quite sure what to expect, reminiscent of an experimental Miles Davis, or the wild landscapes painted by many a Weather Report album. Bowden's luscious string arrangements flow in and out throughout the album, complimented by some subtle bass from Simon Smith and thoughtful percussion from Andy Wheeler. All in all it's a creative mix of moving songs and powerful instrumentals. Is it jazz? Is it folk/rock? It doesn't really matter. It's very inspiring and I can only recommend you go find out for yourself.
(On sale now from independent record shops and online from www.discovery-records.com)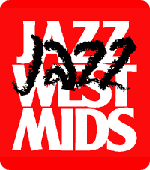 The delightful and outstanding singer Elaine Delmar (heard by your Editor on Saga FM radio recently) will be one of the stars at the Southport Winter Weekend from February 2nd - 4th.
A Wonderful Weekend of Contemporary Jazz at Southport
Southport Jazz has created a quality festival with its third "Jazz on a Winter's Weekend" on 2nd-4th February, 2007.
Last February's event got rave reviews for wonderful contemporary jazz, slick organisation and brilliant " fringe" activities – jazz art, photography and workshops. Taking place again at the Royal Clifton Hotel on Southport's famous promenade, the programme is arranged so that visitors can enjoy every gig in the spacious and comfortable hotel suites, with time to relax, dine, and also enjoy the fringe events. 'Ambience' and ' atmosphere' are the keynotes here.
What matters is the quality of the music and Southport Jazz has really pulled out all the stops and created a balanced and interesting mix of the best of UK contemporary jazz. The Festival opens with the delightful Elaine Delmar backed by an outstanding band including Brian Dee and Jim Mullen. The late set sees Bobby Wellins with Andrew Cleyndert, Spike Wells and Mark Edwards.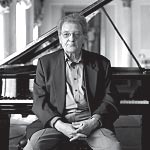 Saturday 3rd starts with a big band session with Swingshift and star soloists including Steve Waterman, Barnaby Dickinson and Alan Barnes. The afternoon set is guitarist Pete Oxley's Curious Paradise. The great Stan Tracey (left) Quartet is the evening highlight including a performance of Stan's iconic ' Under Milk Wood Suite' with Welsh narrator Phillip Madoc. Reedsman Andy Panayi leads his Septet for the late set with a pad of Andy's own arrangements.
The final day opens quietly with vocal jazz – a set from The Liz Fletcher Trio followed by Pete Churchill at the piano. The temperature rises in the afternoon with a session from the Tubby Hayes era with his great devotee tenorist Simon Spillett's Quartet with John Critchinson, Martin Drew and Andrew Cleyndert. Sponsor Steinway & Sons are providing two grands for an early evening duet from John Donaldson and Mark Edwards and the festival ends with a performance of the Barnes- Plater suite 'The Seven Ages of Jazz' with Liz Fletcher singing Alan Plater's lyrics to Alan Barnes's music with his own all star octet. Alan Plater provides the anecdotal links.
Exhibitions by internationally renowned jazz photographer William Ellis and jazz inspired artist Dave Barden and a 'jazz shop' put the icing on the cake.
For a full brochure contact Geoff Matthews on 01704 541790 or e-mail: smjc@artees.freeserve.co.uk Download the programme from www.jazzinsouthport.co.uk Card payments can be taken by telephone.
---
THE DANKWORTH'S AT STRATFORD
by Michael Beaumont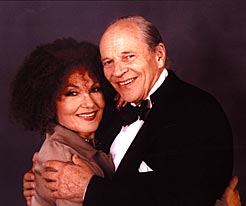 I had not seen the Dankworth's live for a few years and wondered if the magic of their earlier years would still be intact. Appearing to a capacity audience at Stratford's Civic Hall as the climax of the towns excellent October Music Festival I was not disappointed. They were outstanding. Now in their eightieth year they are a marvellous advertisement for the campaign against ageism in the work place.
The first half featured John's quintet with local maestro Mark Nightingale: trombone, John Horler: piano, Alan Ganley: drums and son Alec on Bass. They presented a superb blend of new and old with each musician allowed plenty of space to show their superb skills. Alan Ganley's drumming was a joy to behold, no shed building here. Mark, as ever, proved why he is our number one trombonist and the audience were spell bound by Alec's bass feature.
That first set really set the mood for why the audience were there: 'Dame Cleo Laine'. She was outstanding and the years have done nothing whatsoever to diminish the quality of her voice; the technique, the intonation, the range, the depth of expression. Like a good red wine it had matured beautifully with time. The first selection lasted a full 15 minutes with Cleo barely taking a breath. Mind blowing.
Space prevents greater coverage of what was a wonderful experience so In conclusion if you get the opportunity to see these two doyens of our musical world in the future. DON'T MISS OUT!
---
Andy Smith - 1946-2006


For more than a year Andy had been rehearsing and playing with the N C Big Band when when he tragically died on his 60th Birthday.
Roger Bruton has sent in an obituary written by Brian Rankine trumpet player with The Syd Lawrence Orchestra and, for many years now, with the BBC Radio 2 Big Band. To read it in full please click here.
---
BRIAN WAITE
Brian Waite, The Kidderminsterbased jazz pianist, died on Saturday 21st September after a long battle with leukaemia.
Mal Gibbons writes:
" Brian was a great player and alovely guy. We met in the late 70s and I always tried to get him for my gigs, though he was much in demand.
Brian was an early participant, and later tutor, at the Barry Jazz Summer School, and was also the author of an excellent book on Jazz Piano. In recent times he worked with Erica Lyons and John Gibbons, backing a wide variety of Jazz stars on dates throughout the UK. Brian will be sadly missed but not forgotten."
---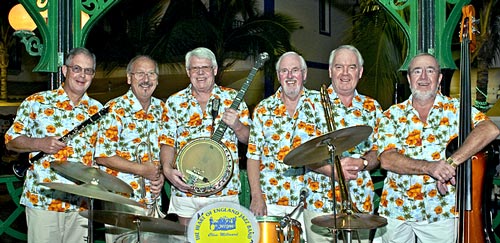 The Heart of England Jazz Band are just one of the great local bands joining us at JWM in wishing all of you a very Happy and Traditional Christmas. Catch the The Zenith Hot Stompers (below) at the Kings Head in Lichfield on Thursday 7th dec, whilst you can see the Heart of England Jazz Band in Briely Hill Town Centre at noon the following day.