ABERDEEN JAZZ FESTIVAL . . .
. . . goes from strength to strength
as exciting line-up for 2007 is revealed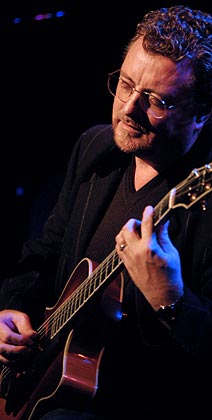 Top national and international talents, including guitarist Martin Taylor, are being gathered to play the Aberdeen Jazz Festival which takes place over five days between the 7th - 11th March, with broadcast coverage from BBC Radio.
A highly impressive roster of jazz luminaries includes the effervescent BBC Big Band with the velvet-voiced Elaine Delmar, jazz guitar virtuoso Ulf Wakenius, and darlings of the current London scene Polar Bear and the Neil Cowley Trio. Home grown acts come in the form of leading Scottish trumpeter Colin Steele and world-famous Scottish sax star Tommy Smith.
The festival is also a strong supporter of aspiring new talent. A performance by pianist Gwilym Simcock will be broadcast live to the nation, and a number of instrumental workshops will provide expert tuition for hundreds of music students.
Spread over five venues the festival's rapidly growing reputation shows no signs of slowing. Ticket hotline:– Tel. 01224 619 769 www.aberdeenjazzfestival.com
---
Jazz on a Winter's Weekend Triumph


We're delighted to hear from Geoff Matthews that the weekend was a great success, very well supported and thoroughly enjoyed by all.
Congratulations to Geoff and the team from Southport Melodic Jazz Club. If you missed it this year make a mental note for next year. Check out
www.jazzinsouthport.co.uk for their regular jazz events.
---
DAME CLEO, SIR JOHN AND
ACKER BILK AT PORTHCAWL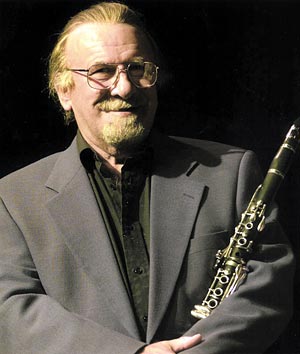 International jazz stars Dame Cleo Laine and husband Sir John Dankworth make a rare appearance in Wales on Saturday 21st April when they top the bill at the extended 2007 Porthcawl Jazz Festival. Running from 20th to 22nd April, the 3-day Festival kicks off on Friday 20th with an evening of pure enjoyment at the Porthcawl Grand Pavilion delivered by the hugely popular Mr Acker Bilk (above) and his Paramount Jazz Band. On Saturday 21st, again at the Grand Pavilion, a jazz workshop, masterclass and a full programme of bands lead up to the Dankworths' evening performance.
Add to all that a jazzbrunch on Sunday 22nd at Porthcawl Rugby Football Club and a great event is guaranteed. Calls for tickets have surprised even the Organising Committee.
Committee Chairman Wayne Warlow says "By presenting a wide range of quality jazz the Festival is attracting ever more national and international attention. Our aim is to stage a very special event for the people of Porthcawl and beyond."
---
Fertile Ground at the Drum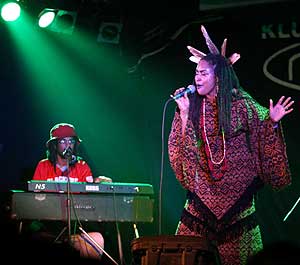 Fertile Ground are performing at The Drum on Saturday 17 March, this internationally recognised urban collective have sold thousands of albums worldwide and have a huge underground following. Their unique sound combines Nu-soul, Jazz and world beats, influenced by Gil Scott-Heron, the music of Marvin Gaye and the early work of Jon Lucien.
Fertile Ground have received widespread acclaim for their electric live performances and plaudits for their albums – Black Is (2004) and Seasons Change (2002).

---
OLA ONABULE
On Friday 16 March cool rhythmic and bluesy soul artist Ola returns to the Artrix at Bromsgrove. New venue the Artrix has a fantastic programme of dance, films, theatre and live music.
To book or to receive their brochure tel 01527 577330 or book online at www.artrix.co.uk
---
Aberdeen Jazz Festival...
...from 7th to 11th March features the BBC Big Band with Elaine Delmar (right), Ulf Wakenius, Martin Taylor, Polar Bear, the Neil Cowley Trio, Colin Steele, sax star Tommy Smith and pianist Gwilym Simcox among many others. More on this in our Jan/Feb Features!
Ticket Hotline 01224 619769 www.aberdeenjazzfestival.com
---
WATCH OUT FOR SARAH JANE!
Sarah Jane Morris is set to play the Assembly Rooms in Ludlow on Saturday 7th April. For those of you who don't know Sarah Jane is the girl who sang Contralto to Jimmy Summerville's Counter Tenor on the Communards classic cover of "Never Can Say Goodbye".
If you've not seen her sing make sure you don't miss out this time, "cos boy, the girl can sing!
You can ring the Assembly Rooms Box Office on 01584 878 141

---
The Yardbird Has Landed in Brum
The Stage, Paradise Place, has changed hands, had a make-over, and has now reopened as The Yardbird Jazz Club. There's live music Wed, Thurs, Sat and Sun ranging from Jazz to Latin, Soul and Funk and DJs on Mon, Tues and Friday. Food is served from 11am to 5pm.
Saturday nights are £5 (members £4), other nights are free. The Cobweb Collective is putting on Jazz sessions every Thursday from 8pm till late. On Thursday 1st March the special guest will be Bobby Wellins.
Tel 0121-212 2524 - www.myspace.com/theyardbirdbirmingham
---
Spring festival bonanza for Esther
Jazz vocalist Esther Miller will be appearing at 3 Festivals this spring. On the 31st of March she appears at the Cape Town International Jazz Festival with New York trumpet maestro, Jeremy Pelt as her special guest.
Next up is the Isle of Wight Jazz Divas festival on April the 13th and finally, the Cheltenham Jazz Festival on the 3rd of May with Karen Sharp on tenor sax.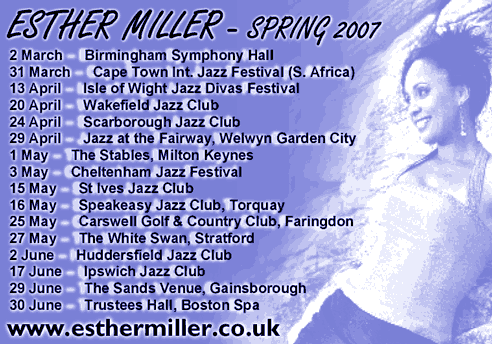 Charity Event for Brum
Children's Hospital. On Sunday 1 April the afternoon slot, 3 to 7pm, at the Prince of Wales, Cambridge Street (behind ICC), Birmingham will be devoted to a fundraiser for the Birmingham Children's Hospital. Acts will include Doctor Johnny's Blues, rising pop star Matt Tyler and Diamond duo. Free entry, special fundraising CDs on sale and raffles. Come and enjoy the super-friendly atmosphere of the Prince of Wales, great real ales too!
For info phone Linda on 0121-241 6751
Tommy Burton's Memories
Well loved entertainer and singerpianist Tommy was a Black Country legend. Now new CDs, Ma, He's making eyes at me and Live at the Raglan, are available from Dottie Burton at £10 each including P&P. Phone Dottie on 01902 850734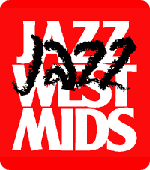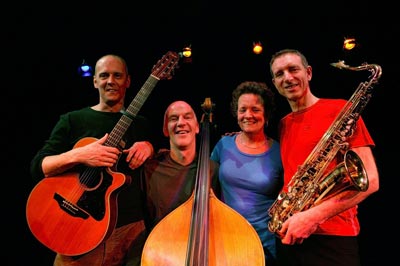 Huntingdon Hall in Worcester...
... has a great programme of jazz lined up beginning with Girl Talk on Tuesday 6th March "three singers give their all in silk, sequins, pinnies and rubber gloves, an hysterical, fabulously sung show performed by Britain's best-dressed divas."
Further events: Friday 23rd March: Stacy Kent and Jim Tomlinson, following their latest successful album " The Lyric." Friday 30th March: King Pleasure and the Biscuit Boys, a great night of swing. Saturday 14th April: Martin Taylor, one of the most gifted guitarists from the world of jazz and on 11th May it's Snake Davis (above), the former Sax player in M People.
Special discounts for JazzWestMids readers. Quote our advert and receive 10% off ticket prices for all events advertised in JWM.
Box Office 01905 611427 www.worcesterlive.co.uk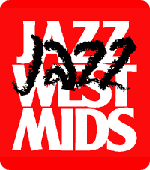 Esbjorn Svensson Trio
Thursday 22nd March, 7.30pm at Birmingham Symphony Hall. Innovative Swedish jazz band E.S.T. bring the jazz piano trio into the 21st century, with electronics, drum 'n' bass, funk and catchy melody all contributing to a sound that captivates audiences around the world.
Box Office 0121 780 3333
Online booking at www.symphonyhall.co.uk/boxoffice
---
Isle of Wight Jazz Festival
Fancy a break in the beautiful Isle of Wight in April with great jazz thrown in? Take a look at the Jazz Festival advert below. With the attractions of sea, scenery, holiday atmosphere and many top jazz names, you can't go wrong! Check out www.jazzdivas.tv or phone 01983 856206/856200. For an accommodation brochure call the Tourist Office on 01983 813813

Kirkcudbright Jazz Festival
The 10th Festival has an international dimension provided by the Climax Jazz Band from Toronto, Canada, and the Barfota Jazzmen from Sweden. Home grown talent is ably represented by Hokum, Mart Rodger Manchester Jazz, Antique Six Jazz Band and West Jesmond Rhythm Kings all from England and by Bill Salmond's Louisiana Ragtime Band and Dave Keir's Hot Five from Scotland - and that's only a few of the bands appearing! Although firmly rooted in " traditional" jazz this year's Festival exceptionally features the boogie-woogie, jump jive and rhythm and blues sounds of the Red Stripe Band. With jazzdining in local restaurants, a stunning brolly parade and a swinging, singing jazz church service this is a weekend not to miss. The picturesque harbour and artists' town of Kirkcudbright is set amongst beautiful scenery in SW Scotland. You can see the harbour and fishing fleet, admire the brightly coloured houses and savour the artistic heritage of artists such as Hornel Oppenheimer, Taylor and Jessie M King. Sample local beef and fresh seafood in the town's restaurants and enjoy the friendliness of the townspeople.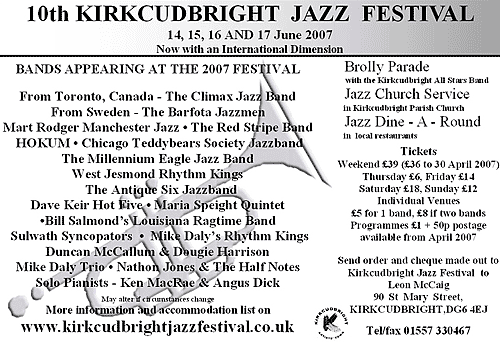 LICHFIELD GARRICK FOR
JACQUI DANKWORTH & MYJO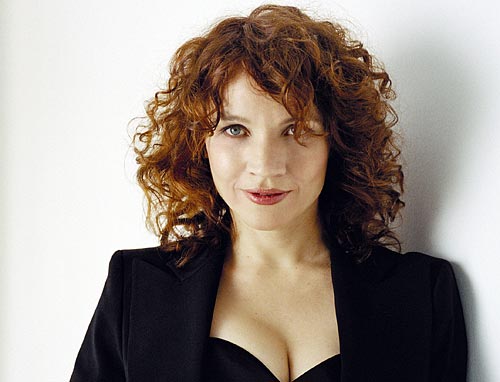 Jacqui Dankworth, who will be joining MYJO at the Lichfield Garrick.
The Lichfield Garrick Theatre will be presenting a very special event at 7.30pm on Wed Mar 21 with the acclaimed Midland Youth Jazz Orchestra and their star guest, vocalist Jacqui Dankworth.
For further details contact Nichola Ruddick on 01675 442050. For bookings please contact the Box Office on 01543 412121 Don't miss this concert - it will be an evening to remember!
---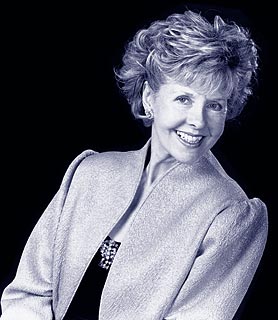 The legendary Rosemary Squires . . .
will be performing with the Four Oaks Big Band on Thursday March 22 at Sutton Coldfield Town Hall, a concert organised by Sutton Coldfield Rotary Club.