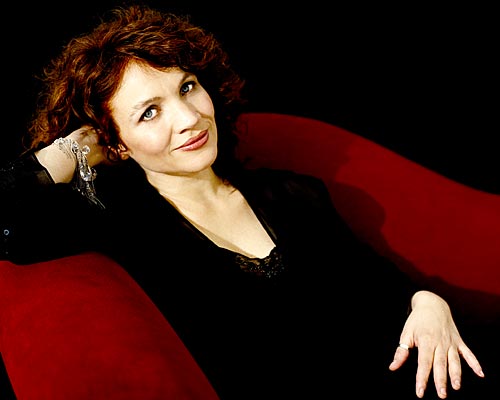 Jacqui Dankworth (above) will be starring at Huntingdon Hall, Worcester on Saturday 6 May as part of a series of Jazz Legends. The series continues with Snake Davis (ex-M People) and Acker Bilk. For more details see advert page11.
---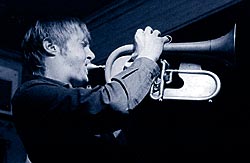 Coventry Jazz Festival
from 25th-29th May has become one of the country's best Jazz events. Top jazz artists Courtney Pine, Georgie Fame with the Alan Skidmore Quartet, Susheela Raman and The Soft Machine Legacy have already been signed up.
Local heroes, Bryan Corbett (above) and Soweto Kinch are just two more of the fabulous acts appearing. Concerts will be held throughout the city including the ruins of the old Cathedral, St Mary's Guild Hall and the Herbert Arts Gallery as well as Warwick Arts Centre and the University of Warwick.
A giant 4 metre helium filled HSBC balloon will light up the Cathedral Ruins for the duration of the Festival, a dramatic first for the HSBC Coventry Jazz Festival and Cathedral.
---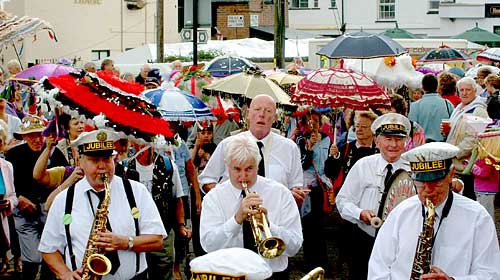 BUILDING UP TO UPTON
As the Upton Jazz Festival builds up to it's 21st Anniversary JazzWest
Mids is also building up to the event with a series of photos from last year, including this one by Robert Coles. Upton takes place in late-June (weekend 24th-26th) and topping the bill are George Melly, Chris Barber and the Pasadena Roof Orchestra
---
The famous Dutch Swing College Band
will be performing in Bromsgrove on Friday 12th May as part of the 2006 Bromsgrove Festival. The concert takes place at the Spadesbourne Suite, Council House, Burcot Lane. For tickets and further information telephone 01527 876 504 or visit www.bromsgrovefestival.741.com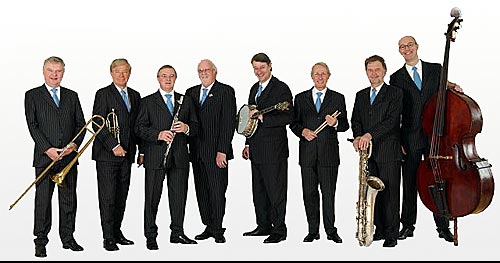 Carole Westwood,
pictured singing at the Prince of Wales in Birmingham (photo Dick Jones) will be appearing at the Bonded Warehouse, Canal Street, Stourbridge on Friday 26th May with the Archie Cotterell Trio. Venue organiser, Simon Deeley says "This very popular singer with her effortless, smooth but vital singing style continues to captivate audiences."
For more information about the Bonded Warehouse phone 01384 395 216
Also on 11 June you will get the chance to see Carole perform in front of a Big Band when she will be the special guest of Garry Allcock's All Stars at the David Lloyd Leisure Centre in Great Barr, B'ham - 0121 475 7524 for info.
JAZZ AL FRESCO
On Sunday 16th July the beautiful Birmingham Botanical Gardens host a wonderful picnic featuring the NC Big Band and the Ralph Allin Quartet. Last year's event was memorable both for the magical quality of the music and the amazing DIY gourmet picnics on display. This event comes highly recommended by your editor.
For tickets ring 0121 454 18
REAL ALE AND GREAT JAZZ AT LICHFIELD
Lichfield Real Ale, Jazz and Blues Festival, from June 22 - 25 features the Ralph Allin Quartet, Gilad Atzmon Quartet, The Big Chris Barber Band, TJ Johnson, the Steve King Big Band, Dennis Rollins Badbone and Co and many more exciting artists.

Festival Patron, Ken Mosson from Tamworth M&M Club is looking forward to seeing the trumpeter Harry Beckett and sax player Theo Travis.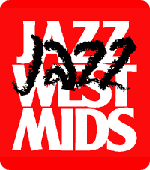 BATH MUSIC FEST
The International Music Festival being held at Bath from 19 May to 4 June gives visitors the opportunity to soak up the historic atmosphere of the Roman city, while listening to Jazz acts such as Dennis Rollins, Tomasz Stanko, Polar Bear and Karen Street.
For more information and bookings phone 01225 463362 or visit bathmusicfest.org.uk
---
OLA AT THE ARTRIX

Readers living within striking distance of Bromsgrove are very fortunate in having the new Artrix Theatre on their doorstep.

Singer songwriter Ola Onabule (pictured above) will appear at the Theatre on Friday 26 May. Ola has opened for artists such as Gladys Knight, Al Jarreau, Natalie Cole, Patti Labelle & Diane Reeves. His music is a blend of soul, jazz and African influences and the strength of his melodies is opening doors on to other worlds. Ola is an artist who has created his own identity and continues to forge his own destiny-an incredibly talented musician who demands to be seen and heard. For times, prices etc ring 01527 577 330 or visit www.artrix.co.uk.


WOMEN IN MUSIC FESTIVAL

Kirsty and Kenny, seen here performing at the Prince of Wales are just one of the great local acts performing at the Women in Music Festival held in Digbeth on the 2nd and 3rd June at the Irish Centre and South Birmingham College.
Other acts include Laura Ige, Yaz Alexander and Maria Patrick. For more info visit their website at www.womeninmusic.co.uk


JAZZ FLOATS FROM NEW ORLEANS

Chancery Cruising offer a once in a lifetime holiday, sailing in the Western Caribbean, visiting Costa Maya, Guatemala, Belize and Cozumel, Mexico and listening to some fabulous Jazz featuring Joe Segal, Lou Donaldson, Jimmy Heath and Bud Shank plus a host of other big name musicians.

The holiday begins with a three night stopover in the home of Jazz, New Orleans. It all starts on the 30th November 2006. To send for their brochure and find that prices may be more affordable than you expected and excellent value call 020 7405 7056 or visit www.chancerycruising.com or www.ajpas.com