7th Bridgnorth Jazz Festival
October 23-25
Alan Barnes (pictured) and his All Stars with Bruce Adams, Roy Williams and the Craig Milverton Trio open the Festival. On the Saturday the exciting Jazz Trail is followed by A Night in New Orleans at the Down Inn with guest star Martin Litton. On Sunday Karen Sharp and Robert Fowler pay tribute to Al Cohn and Zoot Sims at the Swan, Knowle Sands
Ticket hotlines 01746 765737 or 07710 242446.

Bridgnorth Jazz Festival, Jazz Trail
On Saturday October 24th many top quality artists, including Alan Barnes, Craig Milverton, Bruce Adams, Roy Williams, Erika Lyons, Dee Daly, Mike Piggott, Spats Langham, Casey Greene, Paul Degville, Karen Sharp, Carole Westwood and many more, will be performing at venues throughout Bridgnorth and on the Severn Valley Railway. Stroller tickets £12 for the entire Jazz Trail, railway tickets separate but at a discount. E-mail tim.lord01@btinternet.com for full information.
---
CLEO LAINE AND JOHN DANKWORTH @ STRATFORD ON AVON MUSIC FESTIVAL
Friday 9 October, Civic Hall, Rother Street, 7.30pm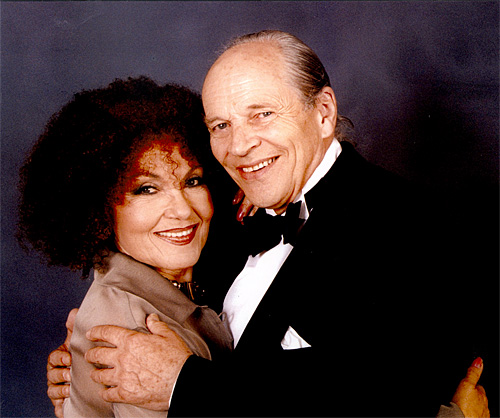 Cleo Laine and John Dankworth need no introduction to jazz fans. Often described as the 'Royal Couple' of British Jazz, they show no signs of stopping. Back from a tour of the US the couple return to Stratford for what will undoubtedly be a show-stopping evening. A New York critic recently wrote: "Dankworth's alto sax and clarinet sound as gossamer as ever, while Laine's voice remains a wonder of agility." At 81 Cleo and John are still performing to sell-out audiences the world over.
Tickets from Civic Hall Box Office on 01789 207100 or online at www.civichall.co.uk Full details of Festival at www.stratfordmusicfestival.com

---
PAUL VERNON CHESTER QUARTET
Sunday 4 October, White Swan Hotel, Rother Street, Stratford on Avon, 8pm
If you hanker for the pulsating music of Django Reinhardt and Stéphane Grappelli this evening is for you. Paul Vernon Chester is renowned on the world stage as a leading exponent of gypsy jazz in the Django tradition.
Tickets from 01789 298607 or on the door.

---
DIFFERENT VENUE FOR STRATFORD JAZZ QUINTET OF THE YEAR
On Sun 08 Nov Stratford Jazz's Quintet of the Year will be in the Upstairs Function Room at No1 Shakespeare Street. They are:
Greg Abate (left - reeds)
Alan Barnes (pictured below right - reeds)
Tom Hill (bass)
Paul Sawtell (keyboard)
Neil Bullock (drums)
This band went down a storm when they played at the White Swan last November and such enormous interest has been shown in the re-booking that we have decided to transfer the gig from the White Swan to No.1 Shakespeare Street. Please note all other events are at the White Swan as per Listings.
Sun 08 Nov, 8pm - £10 On Door & 1st Drink £FREE! - www.stratfordjazz.org.uk - www.shakespearestreet.co.uk

---
CALLING ALL MUSICIANS...

... Kirkcudbright Jazz Festival; 10, 11, 12 and 13 June 2010

Bands interested in appearing at this Festival and wishing to be considered should send full contact details (Name, Address, Tel/Fax Number, Email Address, Website) and, if possible, some demo music for Committee assessment to Leon McCaig, 90 St Mary Street, Kirkcudbright, DG6 4EJ.

Bands which have previously played the Festival need not do this as they will automatically be considered for 2010
---
Would you Adam & Eve it
Sunday Jazz comes to Digbeth
with The Steve King Big Band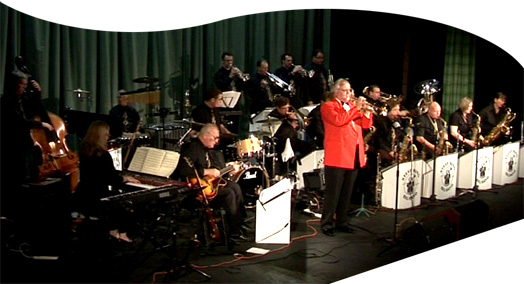 On 22nd Novembeer the Adam & Eve pub in Digbeth, an already well established music venue, will be starting Sunday lunchtime jazz with the Steve KIng Big Band. Music will be from 1 - 3 pm and admission will be free.
For more information and future events go to www.theadam.co.uk. For more on the band go to www.stevekingbigband.co.uk
---
Summersault Jazz Diner, Rugby
Live Jazz & Nosh on Friday & Saturday Nights
Summersault Jazz Diner has live jazz bands every Friday night and live jazz piano on Saturday nights. Music starts at 7pm, food available from 6.30pm.
Summersault is a unique and atmospheric restaurant and coffee house where everything is cooked in house using organic, meat free ingredients to produce real food and drink; Summersault's excellent reputation for good food has been developed since 1989.
To find out more about the Jazz programme or any other information see contact details and website below:-
Summersault Restaurant, 27 High Street, Rugby, CV21 3BW - 01788 543223
www.summersault.ltd.uk

---
Stella Joins us as Co-Editor
We are delighted to welcome our new co-editor Stella Draper. Linda has broken her leg so she is particularly grateful to her husband Barry, and to Stella, for their help in producing this magazine. If you would like to be part of our team please phone Linda on 0121-241 6751 or e-mail jazzwestmids@yahoo.co.uk.
---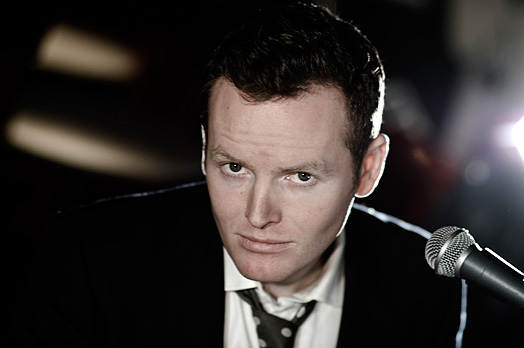 JAZZ ON A WINTER'S WEEKEND, 5-7 FEBRUARY 2010.
Southport Melodic Jazz has announced the programme for their 6th 'Jazz on a Winter's Weekend'. The festival has an essentially contemporary Brit-Jazz flavour with 11 concerts and 3 workshops packed into a busy weekend. Friday opens with the young and dynamic 6 Pac and the evening sees Martin Drew's New Couriers with Robin Aspland, followed by the Joe Stilgoe Trio (pictured).
Saturday starts with the Iain Dixon-Mike Hall Quintet followed by Croatian piano genius David Gazarov with Martin Drew and Andy Cleyndert. Multi instrumentalist Al Wood leads his big band into the evening session with Alan Barnes guesting, and the late spot goes to the David Newton XSK band.
The final day includes the Royal Northern College of Music Big Band with guest guitarist Mike Walker. Top UK jazz vocalist Cleveland Watkiss's trio in the afternoon is followed by Steve Waterman's star-studded tentet with music from Gerry Mulligan to Chick Corea. The weekend ends with Mike Hall on tenor sax with piano star Dan Whieldon, Alec Dankworth and Clark Tracey.
Tickets from SMJC on 01704 541790 or www.jazzinsouthport.co.uk
For accommodation call 01704 533771 or www.theroyalcliftonhotel.co.uk
---
George Huxley Quartet with Caz at Wilmcote
A special event at the Village Hall, Glebe Rd, Wilmcote, on Saturday October 24th from 7.30pm. Ticket only, including supper. Tel 01789 293340 after 6pm.
---

GWYNETH HERBERT
@ Lichfield Guildhall
Friday 9th October
Gwyneth has been described by The Observer as "A voice that's a knowing mix of honey, steel and gravel… Her voice vibrating over the lyrics in a way that makes your toes curl and your hair stand on end."
8.30pm
Tickets: £14/£13 concs /£12 members/£7 students
Phone 01543 262223 or click here to book online

---

Jaga Jazzist Hit Leeds & London
Norwegian jazz-rock group Jaga Jazzist will be coming to the UK for the first time since 2005, would you be able to post this up as news? The band will be doing just two UK shows: Leeds (as part of Brainwash Festival IV) at TJ's Woodhouse Club on Thursday 29th October, and the night before at the Barbican in London. For more information please got to www.brainwashleeds.co.uk
Advance tickets for the Leeds show are priced at £15.00, with support coming from Brighton's prog-rock 7 piece Diagonal.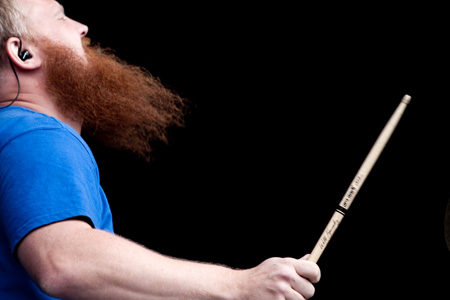 ---

In Remembrance
WARREN DORSEY
who passed away four years ago on 6th November 2005
Well known Midlands jazz singer, Greatly loved and sadly missed by all his family and friends.
---
Mike Burney & Friends at the White Lion
The White Lion, Sandwell St. Walsall WS1 3EQ presents Mainstream Jazz on the 1st Monday of each month, featuring The Little London Jazz Quartet. The quartet consists of Tony Hooper on keyboards, Mike Burney (right) on sax and flute, Tyrone Bishop on bass, and Rick Tams on drums. The music will be in the lounge of the White Lion, a large Victorian pub just outside Walsall town centre.
Come and relax and enjoy their award winning range of real ales and traditional ciders. Next date is Monday 5th October, admission free. For information 01922 628542.

---