Sticky Wicket
and his 9 Piece Swing Orchestra

Saturday 3rd November
@ Huntingdon Hall

THE JAZZ IS BACK...
...AT BEARWOOD CORKS CLUB
Jazz returned to Bearwood Corks Club on Thursday 13th September with The Blue Notes plus special guests Graeme Hamilton (right) and Steve Ajao.
The following week vibes player Julian Powell brought his "Collective" of young musicians which featured his 'Rock Star' brother Gary Powell (Libertines and Dirty Pretty Things). Both nights were packed and there was a wonderful vibe. The club is still putting their Autumn programme together, but with the Steve Ajao Quartet kicking off October and more of The Blue Notes with some very special guests in the offing things are looking up.
Even with an admission charge, Social Club prices behind the bar make the Jazz at Bearwood Corks Club a highly affordable night ou72.

The Jazz night is being rebranded as the Silvershine Jazz Club in honour of their founder Andy Hamilton MBE
Hello everyone
I'm often asked "what is Jazz", I think Satchmo said it best, "If you gotta ask, you'll never know".
There is some excellent jazz on offer during October.
Dame Cleo Laine is 85 on October 28th. Jazz Matters are holding a special concert Sunday Lunch time to celebrate at The Stables Theatre Ltd. Stockwell Lane, Wavendon Milton Keynes MK17 8LU. Box Office - 01908 280800
The 10th William Shakespeare Jazz 'n' Swing Festival – 24th – 26th November. Drummin' man, John Petters brings his galaxy of stars to the Stratford Holiday Inn Hotel for another explosive session of hot music.
Something for everyone will be on offer - from hot classic jazz, New Orleans Revival, Swing and the American Songbook.
Stratford Jazz gigs: Are now able to firm up on the future arrangements for Wednesday evenings, fortnightly.
Commencing on Wednesday 9th January 2013, when Alan Barnes and Chris Bowden front the Tom Hill trio, gigs will be held fortnightly, on the 2nd and 4th Wednesday of the month. These will be evening gigs starting at 8pm. Like many jazz clubs in these recessionary times they are finding it very tough to attract the numbers they would wish for. The venue is much admired and the owner is very supportive, all they need is more jazz fans each gig to secure a bright future. Sunday nights continue with some excellent gigs to offer during 2012.
Tamworth Mainstream & Modern Jazz Club. The sad news is that Ken Mosson passed away on Friday August 31st 2012. Ken got into Jazz in his early years in both Birmingham and London. He was a member of the legendary Club 11and witnessed the burgeoning careers of Jonny Dankworth and Tubby Hayes. Many eminent musicians from his early days, performed at Borehall Manor.
He was also equally keen on Promoting young talent. He will be sadly missed by all who new him.
The Jack Daniels Big Band continues to develop its swing repertoire from Ellington, Basie through to Kubis, Mantooth and Goodwin. American song . You can catch JDBB latest sounds and songs at the Moat House Inn, Coughton, Alcester on Friday 30 November 8pm.
If you've been keeping an eye on theon-going development of the British,particularly the London jazz scene in the last few years you will have picked up on Zara McFarlane. Emerging through a Popular Music Performance course at Thames Valley followed by Jazz Studies at The Guildhall, she has worked with Denys Baptiste, Soweto Kinch, the Jazz Jamaica All Starsand South African jazz icon Hugh Masekela. A fine original song writer as well as singer. Rugby, Lawrence Sheriff School, Saturday November 24th
Keep Jazzin' !!
Stella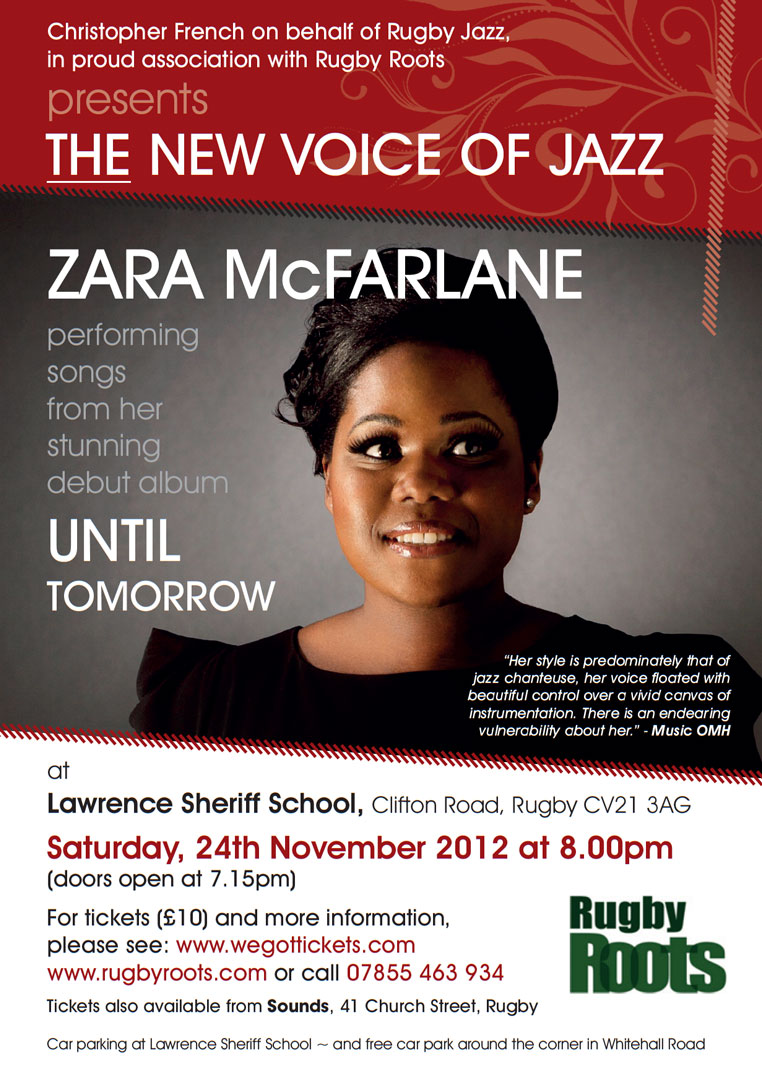 ---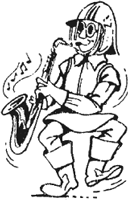 Friends of the Upton Jazz Festival Present
The Charleston Chasers
on Oct 12th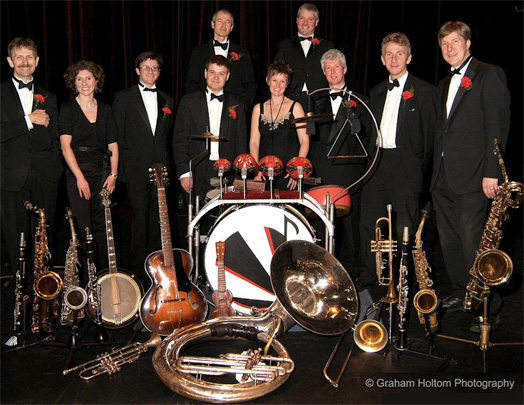 The Charleston Chasers, a ten-piece band who are led by percussionist and vocalist Debbie Arthurs, play hot vintage music like you have never heard before! The Chasers, formed in 1987, are the spearhead band for music from the Art Deco era, so it was no surprise when they were chosen to play at the launch party for the Art Deco Exhibition at London's Victoria and Albert Museum. Some 800 invited guests were returned to the great age of artistic and musical creativity and, to great acclaim, The Chasers drove new life into old numbers.



In Association with Stratford Music Festival
STRATFORD JAZZ PRESENTS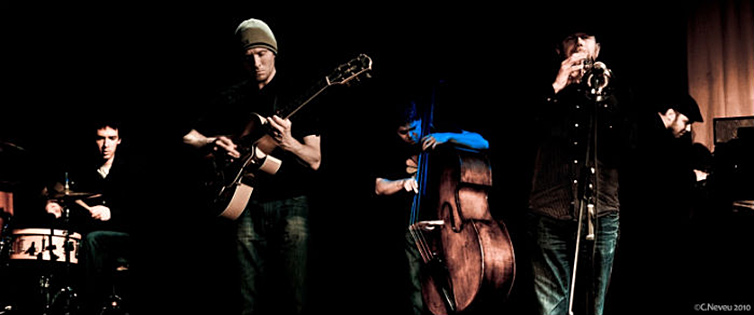 Sun 14 Oct, 8pm - The Magic Hat Ensemble - £12
Steve Chadwick — trumpet/cornet, Andrzej Baranek - keyboard, Tony Ormesher - guitar, Nick Blacka - double bass, Rob Turner - drums
The reputation of this virtuoso quintet has steadily grown through their inventive re-workings of classic jazz material adding a youthful energy and drive which gives familiar tunes a completely different slant. They are renowned for employing the use of metric modulations, odd time signatures and blistering solos to create epic and exciting arrangements.

"Pulsating post bop given a refreshing boot up the behind....a dynamic and hugely listenable band worth catching live." - Jazzwise
Wednesday 17 Oct, 8pm - Alan Barnes/David Newton Duo - £12

Dave Newton (keys) & Alan Barnes (reeds)
This concert will feature music from the latest album of this remarkable duo and is the culmination of over 33 years of performing together. The pair are positively inspired on a selection of jazz gems and standards covering a wide range from Don Redman to Chick Corea.
Tickets: info@stratfordjazz.org.uk - (students, half-price)
No.1 Shakespeare Street, Stratford, CV37 6RN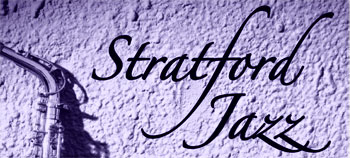 ---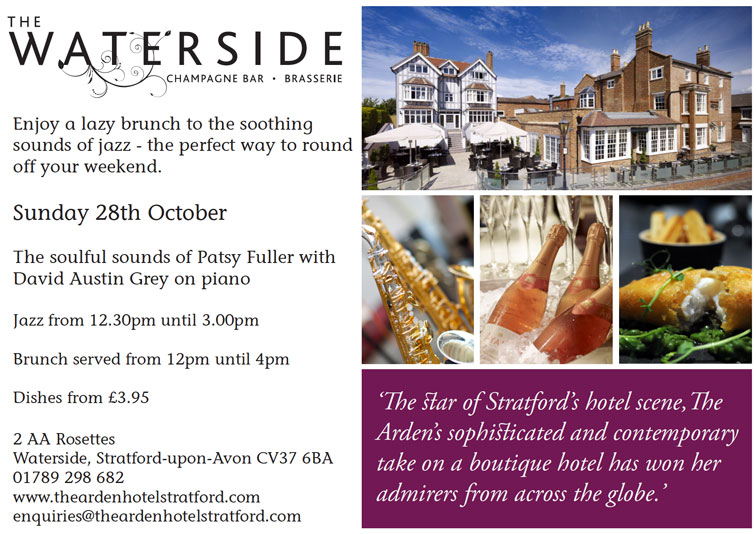 TOP BAND TO APPEAR AT STRATFORD JAZZ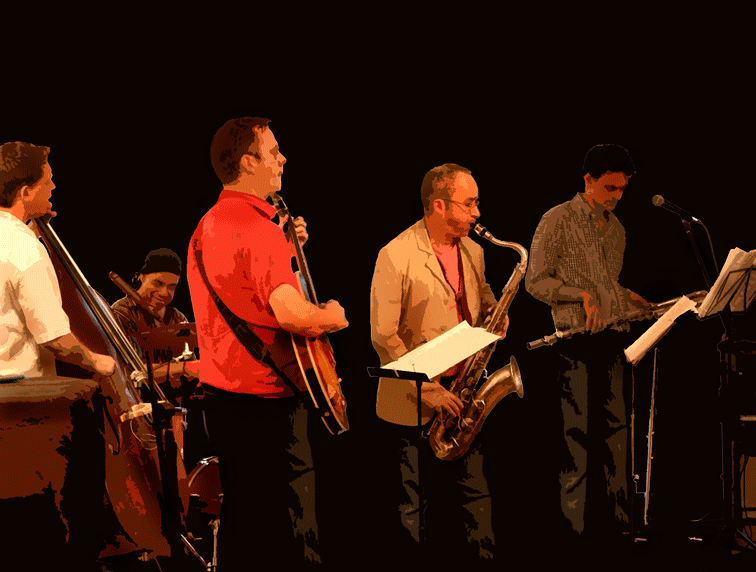 Sun 30 Sept, 8pm, Phil Robson's Immeasureable Code Quintet, £12 (Students £6)
Stratford Jazz has completed quite a coup in persuading guitarist/composer Phil Robson to bring his new band 'The Immeasureable Code Quintet' to Stratford on Sunday evening, 30th September. This is the final date of a most successful 'Jazz Services' UK tour described by Jon Turney as "A superband which engendered great expectations, then surpassed them".
As one might expect from the recent winner of 'Best Jazz Musician - Parliamentary Jazz Awards' Phil Robson has assembled a world-class line-up with Julian Arguelles on saxophones, Gareth Lockrane on flutes supported by Michael Janisch on bass and Ernesto Simpson on drums. Much of the repertoire will include material from their recent album which has been widely acclaimed by the critics including a 4-star rating from the influential 'Jazzwise' magazine.
Stratford Jazz is at The Chapel, No.1 Shakespeare Street. Doors open at 7pm starts 8pm. Tickets £12 (students half-price) from Roy at info@stratfordjazz.org.uk more details at www.stratfordjazz.org.uk
---
FOUR OAKS BIG BAND IS MOVING
to Sutton Coldfield F.C., Coles Lane, Sutton B72 1NL
Their first concert at New Venue is
Thursday October 11th

(CORRECTION FROM MAGAZINE)

2012, 8-10.30pm £5, with featured vocalist & the Dixie Blow Band
Great Music of the Big band Era !!

Remember – if you keep listening they keep blowing! They're looking forward to your continued support and hope that you will bring a friend, and enjoy the music at the new venue
contact: cliclivetheslide@gmail.com Trevor 01827 250 240
2nd concert 8th November, 3rd concert 13th December
---
Cafe Jazz at the
Ruskin Glass Centre,
Friday 26th October 7:30 pm.
The Ruskin Glass Centre, Wollaston Road, Amblecote, Stourbridge. DY8 4HF
Swing, Bebop, Bossa Nova and more - Catchin' those Jazz Styles, with The Simon Deeley Trio and Ian Hill The Organic Cafe will be open for pre-show drinks and snacks. Bar available.

Tickets on the door £7.00 adult, £3.50 students/under 16's. 01384 399419
---
THE HAZEL SLADE BIG BAND LISTING CAME IN TOO LATE FOR THIS OCTOBER'S ISSUE:
The Hazel Slade Big Band date for October at the Soldiers Club, Hednesford, Staffs is TUESDAY 30TH OCTOBER 8PM
---

Listings for Bournville also came in too late for the printed magazine. They are:
2nd Oct: The Henry Newman Band with Janice Wilkinson (vocs)
9th Oct: Bryn Venus Combo with Les Hemmings (bass and vocs)
16th Oct: Frank Partrige's Swing Session
23rd Oct: The Mercia Jazz Five with Tony Billingsley (trumpet)
30th Oct: The New Orleans Wanderers